A High School Counselor Career Profile
Martha "Moppy" Miller gives us a glimpse at the life of a High School Counselor…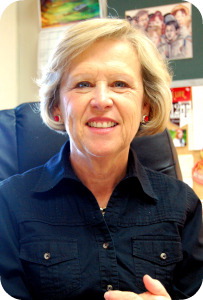 Martha "Moppy" Miller
School Counselor at
Red Oak High School
Red Oak, Texas
Martha "Moppy" Miller claims that for the past 14 years, she has been attending Red Oak High School in Red Oak, Texas, and for six years before that, she attended Taylor High School, also in Texas. To those who can't imagine going to high school for 20 years, Miller counters that she can't imagine life any other way.
As a high school counselor, Miller thinks of her daily life as "going to school" rather than "going to work." She explains that counseling is a "calling," and she talks with conviction about the importance of the field. "It's all about helping the kids," Miller says.
She especially enjoys high school students, watching them mature from freshmen to seniors, helping them become more independent, and guiding them in their decision making. Miller says that watching this growth, and becoming part of that process as a counselor, is one of the most exciting and rewarding aspects of her job.
But there are hard times too, Miller says. And for those times – when kids or their parents come into her office with difficulties – she keeps a box of tissues handy on her desk. "It's not easy; in fact, it's really hard at times," Miller says.
<!- mfunc feat_school ->
Sponsored School(s)
Featured Programs:
Featured Universities with School Counseling Programs

#1

MS in School Counseling, PhD in Counselor Education and Supervision Click here to contact Capella University and request information about their programs.

#2

M. Ed in School Counseling (leads to initial Licensure) Click here to contact Grand Canyon University and request information about their programs.

#3

M.Ed School Counseling, E.dS School Counseling, E.dD Rural Ed - Counseling programs Click here to contact University of West Alabama and request information about their programs.

#4

NYU Steinhardt's accredited master of arts program in Counseling and Guidance: School and Bilingual School Counseling. Through this online program, you will gain the skills you need to become a professional Pre-K-12 school counselor, working with children and families in your community to foster academic achievement and success. Click here to contact New York University and request information about their programs.

#5

M.A. in Education in School Guidance Counseling (P-12) and a Certificate in Guidance Counseling Click here to contact Campbellsville University and request information about their programs.

#6

Offers a Master of Arts - School Counseling Click here to contact Our Lady of the Lake University and request information about their programs.

#7

Master of Science in School Counseling Click here to contact Butler University and request information about their programs.
<!- /mfunc feat_school ->
In 1990, Miller moved from her high school teaching position to a counseling position at Taylor High School. Two years previous to that move, in 1988, she had earned her master's degree in counseling from Southwest Texas State (now Texas State University). She had taught history and other vocational education courses at Taylor starting in 1975, but was ready for a new challenge. Having observed the impact that another counselor, Naomi Paseman, made on the children caused Miller to choose a master's in counseling rather than another career, such as school administration or even college teaching.
"I loved what she [Paseman] did; what she was able to do for the kids," Miller says. In January 1990, when Paseman became director of guidance at Taylor, Miller stepped into Paseman's position as a high school counselor. Miller says Paseman became a role model, someone essential to helping Miller develop as a counselor, a mentor and guide, a person that Miller says would benefit all those beginning their counseling careers. "She was only a phone call away if I needed her."
For 6 years, Miller and one other counselor at Taylor provided guidance counseling for over 900 students. Responsible for this many students, Miller quickly learned some of the essential skills needed to succeed in the field. She lists the top three skills as time management, organization, and flexibility. Because of the amount of paperwork that counselors must fill out for students, listing what needs to be done each day is essential for Miller. One example of this type of paperwork is processing "credit checks" for senior students, or ensuring that they have the requisite number of credits to graduate.
<!- mfunc search_btn -> <!- /mfunc search_btn ->
Every counselor develops a system for completing paperwork, Miller says. There's a lot of data that counselors must gather for generating reports. She recommends taking a look at how other counselors develop systems for paperwork, but not copying their systems. Counselors must develop a process that works for them, she says.
Starting out the day with a list is important, but the flexibility to realize that not everything will get done became the best learning experience for Miller. Moving from a teaching position into counseling took some re-engineering. "The number one thing I had to adjust to in 1990 was to understand that the list of things I wanted to accomplish that day may or may not get looked at. If a child walked into my office, I had to decide if I was going to be a people counselor or a paper counselor."
Miller says it's essential to remember that counselors are there to help people first and foremost. Juggling the many tasks of a counselor and remaining committed to the kids often means moving the paperwork to before and after school.
In 1996, Miller and her husband decided to leave Taylor, the community where Miller had lived and worked all her life, to Red Oak, about 20 minutes south of Dallas, where she now splits counseling responsibilities with another counselor for junior and senior-level students. Besides helping kids discover their passions and what they want to do after graduation, she also helps those struggling with academics. This involves identifying learning strategies based on learning styles, and helping kids develop time management skills.
She also implements special programs for the kids. One such program, developed with the other school counselor, called The Senior Breakfast Club, meets once a month with graduating seniors, offering advice on filling out college and scholarship applications, assisting with essay writing, and helping kids select the right colleges and universities for their intended majors and personalities.
Miller also points to the importance of helping kids through some tough personal situations. During an October morning on the day that she talked with school-counselor.org for this interview, she had just admitted a new junior student to the school. Relating back to her move from Taylor, she tried reassuring the young woman. "I know exactly how your body is reacting this morning because I've been there."
Having experienced the same fears as this girl, Miller could empathize. Also being a parent herself has helped her understand the emotions that parents exhibit while talking with her, from joy to dismay. All of a person's life experiences get brought into this field, Miller says.
Having a husband in education and being a parent also contributed to Miller's decision to leave the teaching field and become a counselor. Financially, as a teacher, she had reached a ceiling on her salary, and she knew she needed a master's degree to increase her earning potential, yet she knew she wanted to remain in education. Counseling provided the perfect fit. "I'm very blessed," Miller says, reflecting on her career decisions and her rewarding days as a counselor.
Over the years, Miller has witnessed the evolution of counseling that paralleled advances in technology. Literally everything was printed when she started out: college catalogs, transcripts and reports. Now with the Internet, students have all the information they need at their fingertips. Transcripts are sent to colleges electronically, and kids now submit their applications electronically. The amount of information available is limitless.
Yet, she emphasizes, as technically savvy as the kids are, with Facebook, and MySpace and their video games, they still require help completing searches. She guides them in using the right search tools and strategies. After they gather some information, then Miller says she helps them fine-tune the information.
Recently a young woman came into her office asking Miller for information on a specific career. "You're living at the right time," Miller responded. "Just get in there and Google." For this young woman and the many other kids at Red Oak High School lucky enough to have Miller for a counselor, one can't help but believe that they are living at the right time – and in the right place.
If you have a passion for working with kids, enjoy watching them change and grow, desire a position with variety and challenges, you should consider a career in school counseling. Most positions require a master's degree in school counseling.
<!- mfunc search_btn -> <!- /mfunc search_btn ->